Cardboard Envelopes
Sustainably send a variety of flat, thinner items from our range of 10 different cardboard envelope styles and 71 sizes.
Choose from climate neutral, corrugated, and planet-friendly cardboard envelopes
Over 20,000 customers, and an Excellent rating on Trustpilot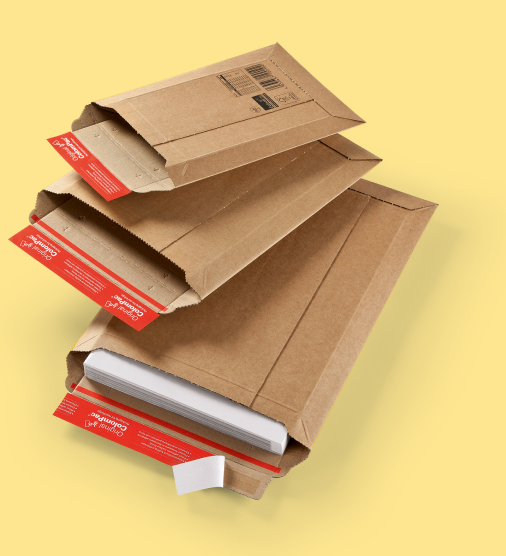 Free Delivery when you spend £250
Offer limited to UK mainland orders exlcusively.
Rated Excellent on Trustpilot
We wear our score as the best-reviewed packaging supplier for thousands of businesses with pride.
Get 1% of your spend back in rewards
That you can donate to one of our charity partners or redeem against your next order.
Mix & Match Savings
Meaning that everything in your basket contributes to your tier pricing.
Samples available on product ranges
Try the packaging or label you're looking for before committing to ordering stock.
Protect Rainforest with every order
You can choose to protect 1,000m2 of rainforest with every order over £30.
Custom Cardboard Envelopes
Creating the perfect custom cardboard envelope has never been easier, and we're here to help you get the packaging you've always wanted.
Get Started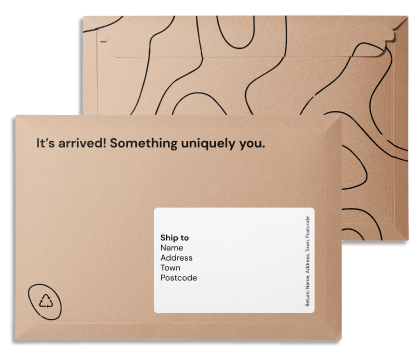 Cardboard envelopes are a great low cost, lightweight packaging option for any of you wanting to ship thinner, flatter items such as documents, photos, CD's, certificates and many more. Whatever the level of protection you need for your goods, we'll have a sustainable mailing solution for you, so that no matter which packaging product you choose, you can do so with the environment in mind.
All of our cardboard envelopes across the ranges are 100% plastic-free, even the integrated peel and seal closure - so there's no need to worry about single-use plastic waste, and they can all easily be recycled at home paper and cardboard recycling.
From protective corrugated cardboard mailers, all board and board backed envelopes, to climate neutral cardboard envelopes - we're confident you'll find the right product for whatever your packaging needs.
Everything we do at Priory is done with sustainability in mind, and we wanted our customers to have the opportunity to give back to the planet and donate to good causes with every purchase of cardboard envelopes. Our charity rewards means you can choose to donate 1% of your spend at no extra cost to any of our charity partners, and protect 1000m2 of threatened rainforest.
Sometimes our goods need a little extra protection, that's where the fluted cardboard comes into play. Made from high quality e and f-flute corrugated cardboard, you get maximum bend-resistance and protection.
ColomPac Cardboard Envelopes - If you're looking for something fully carbon neutral, our ColomPac cardboard envelopes CP 0101's and CP 015's are the way to go - they have scope 1, 2, and 3 emissions offset, meaning all of the carbon associated with manufacturing, distribution, and end of life cycle and recovery for these cardboard envelopes is offset.
Priory Elements EcoMailers™ - designed with the environment in mind, our corrugated EcoMailers™ are a great way of using packaging that protects the planet. As well as having great eco-credentials, 1% of each and every sale goes towards environmental charities worldwide thanks to our 1% For The Planet Partnership. Choose from planet-friendly pocket or wallet style cardboard envelopes and either way, you'll be doing good with your packaging.
These are a great option for those of you sending important documents in the post that must be kept flat. Printed in red 'Please Do Not Bend' provides specific in transit instructions for extra security and protection from damage. These sustainable cardboard envelopes are made from fully recyclable 1000mu backing and a 120gsm paper front - super easy for your customers to recycle at home.
Guaranteed to deliver quality presentation for whichever goods you plan on sending. Whether it be certificates, photos, prints, or documents, our all board envelopes are made from sustainably sourced 350gsm GD2 fully coated chipboard material. With a 4/5 eco score, these all board envelopes are fully recyclable, sustainable, plastic-free, and biodegradable making them a great eco-friendly packaging option.
Similar to the much loved Amazon style mailer used by thousands of eCommerce businesses, our MailJacket envelopes are a low cost and lightweight alternative. The high quality rigid 400gsm board means great protection for your items, and they're made out of 100% post consumer waste for those eco conscious retailers that want to minimise their use of raw materials.
Still stuck on which cardboard envelopes to choose? Check out our ultimate guide to getting the right cardboard envelope for your packaging needs.